meggala.com
WTF I hear you mumble mercedes benz this is meggala.com home of nissan imports .
Well I got one OK (lol) long story but it will be the missus car for now.
1982 mercedes 380 SEL the L is for long and long it is just fits in my garage. you need to take care your all the way in when you park.
I have had a soft spot for merc for ages we owned a 450 sel for a number of years and I was standing at the auctions last night and decided to buy this. my wife was a bit stressed but as soon as she sat in the seat she started jumping up and down. yes she loved it and yes she will be driving to work in it :D
yay I'm geting to build a wild second car.
its an 82 australian delvered car with 260 000 klms and believe me they look very genuine needs rims and tint and we are done :D
wait till you see the pics of it drifting (lol) hey Sam where are you ................................. now this is going to be fun



well fitted the rims . I think it need slamming pretty hard :D thats on the cards and some tint.
As far as what work the car needed not much but for some too much. the car has a gearbox that doesnt want to work right so thats booked in for monday cost aroudn 2k which considering its a merc I thought was reasonable.
The battery clamps were not attached, the drivers side widow wouldnt work and the dash lights didnt work. on a 22 year old car I call that reasonable. my main goal is to getting it running right . then I'm sure the missus will confiscate it. LOL Little do women know eh. yes dear you can have the Merc.
16/12/04
The car need sa few odds and sods to get it perfect the build quality looks better than the japanese cars but the age is starting to tell on this car. the wheels are a bit wide so the front guards will need some massaging suspension is coming down but a bit later on . we are going for atrip toqld from victoria and I'm in two minds about taking it. I suppose the worry is I'm stuck in the deep west of nsw and need a fuel pump and the local servo owner goes that will be a grand thanks. so we will see the auto has another 500 klm to go on run in further testing after that My only alternative is the 180sx fast reliable but cramped. on th ehigh way the mercedes benz jsut floats along lapping up the miles with ease this is the best car for the trip I think I will take it but you will know closer to the date.
This is how low I would like the car to go:)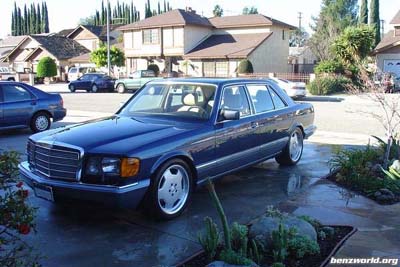 along the way I have fallen for 2 other mercs the first being the 560 SEC and the other the 450SLC will I change track now and head to the expensive world of merc I'm not sure with the rising cost of fuel I doubt it. but it doesnt hurt to dream.
This is one of the inspiration cars the 560sec of cyberdrakon
these cars are much heavier than the nissans and are much slower I suppose age is catching up with me.
but I tell you they really have alot of grip even though they pitch and roll thats design for you.
its a 1982 model car and it has abs and guess what no cat converter but still runs on unleaded.
This should get you back

All infomation here © 2002 http://www.meggala.com