What is meggala.com
meggala.com is a mature website the has lots of information about Nissan jdm cars and information on importing vehicles to Australia.
The site was started in the year 2000 where is was basicaly a diary during my travels to Europe upon returning to Australia I bought an R32 skyline and at that time there was very little information on them. I have since turned it into one of the main reference sites for Nissan Imports. I undertake all the projects my self and fund them my self. while I am knowledgeable about cars I am not a mechanic and dont do the complex work to my cars. I generally direct the work and do the research which makes it possible. My current car is an A31 Nissan Cefiro. which undergoing a transformation pictures very soon.
8/12/05
meggalas site has been down what happened to that resourse so many have trusted well after many years of free hosting by a great person that service has ended and it took a while to bring back on line the site will get a bit a of a revamp as well so be patient. thanks to dr-drift of www.dr-drift.com for providing the free hosting.
sirry its a bit scrappy I'm working from an old back up.
Be sure to check out the cars for sale on my for sale page updated often for sale
21/12/05
import vehicles in decline
Well what has meggala been doing all this time . I have moved away from the modified car scene because due to the import law changes I needed to find a new career and have been working in the transport business alot of my interest now cover trucks and my specialty is vehicle movements.
I have some of my trucking pics up on community webshots if you want to look check them out here
Importing cars to Australia
21/12/05
import vehicles in decline
Well the the goverment has had its desired effect on the importation of high performance Japanese cars into Australia. Along with the crippling changes to legislation there has also been vindictive harassment by police in most states. This has entailed imported high performance car owners being singled out for savage roadworthy checks not just your normal rwc check over and extra special treatment by the EPA. While I dont personally have a problem with P platers being ridden by police as they do hold their licence probationally its the older people and full licence holders who are being treated this way as well. when was the last time you saw and modified porsche getting a rwc check or for that matter some of the fords and holdens getting around some of these are making in excess of 400 hp for which they werent designed for why would you need this much power on the street. ..... more to follow
7/02/05
Death of the 15year vehicle import rule .
well the death of the 15 year old rule is here now only cars built before jan 11989 can be imported , in an anouncement made today by the minister The HON. JIM LLOYD MP.
the official media release from the minister. here
Its a sad day for us lovers of old unique nissan high performance vehicle
more info on the importing page which is here
26/09/05
wow long time since an update!
Sorry for the delay but there hasnt been much to report. my interest is cars is decreasing I suppose 4 major build up's is 3 years is pretty intense. I have just lost the urge. and because funds have been flowing else where ( my new truck there is little spare for the cars) down the track when the towing business is up and running I"m sure I will move back to cars wher ewill I head still with imports or with V8's or else where that will be the intereresting thing. for th etime being trucks are taking much of my time . but I have seen some V'8s which have sparked interest. but with petrol clsoe to $1.40 a liter au and predicted to go up I might wait a little while.
currently both of my imports are for sale the first being the 180sx its an auto genuine
60 000 klms sr 20 detail on the for sale page.
the other the rb25 de cefiro note this could be converted to rb 25 det if required.
cheers
meggala
10/05/05
So whats meggala up to now?
well it looks like I will be expanding into the tilt tray towing business in the near future
I am getting a hino fd3 truck with a tilt slide body.
more info here Hino truck info. the company name will be meggala towing and will be based in Melbourne , Australia should be operational in September 2005 more info to come
14/02/05
so how it looks and how it goes
well it looks pretty plain atm apart from the wheels. how does it go well we had it on the dyno and it made 105 rwkw up from the 94rwkw it started with the main thing was timing no ecu tune just yet. Now tyre choice when building an n/a car that your hoping to drift is critical you cant go the the fat choice of the turbo guys it has to be be fairly skinny I have played with a few tyres and the 205 60 15's or the 205 50 16's seem to be the best.
yes I can get wheel spin, controlled drift is harder atm because I still have the rooted standard shocks in the rear my teins are are going in soon.
Tthe rb 25 de is really quite torquey for the engine size plenty of mid range power my diff is a 4.1 and I can see a ratio change to 4.3 down the track to get more response.
the exhaust with the 2 1/4 " long resonator and new muffer is a little loud but not unbearable . so slowly but surely it will be coming together
7/02/05
Project updates .drove the n/a rb25 cefiro
I have got to say I was surprised at the performance of the n/a cefiro it was better than expected Sam reckons over 100 rwkw so do I. Still waiting for the extractors so the run was done with open exhaust :D the only other major mod I'm considering is cams going to try and get some 260 or 272 cams for it they should really help the search for power. the rb 20 cams fit straight in handling seem normal cefiro. I fitted an silvia lsd its ok but I would prefer a lower ratio. but lets get this on the road first then we will start the sorting.:)
dont forget I have the 180 and laurel coming they are due the end of march see the for sale page for more info.
15/02/05
New project has the motor and box fitted
The car is just in at XTC in Coburg to get the little things done like extractors , exhaust , custom tranny mount, tein coil overs fitted. console mods and lots of other little things done. then its off for compliance and rwc so I reckon 3-4 weeks till its on the road I cant wait.
btw sorry for the late photos. the car was dropped straight off to get started and guess what I had no camera :(
4/02/05
New project is doing well.
The motor is in place and is currently being wired up not much in the way of photos cause it is still stuck in a garage.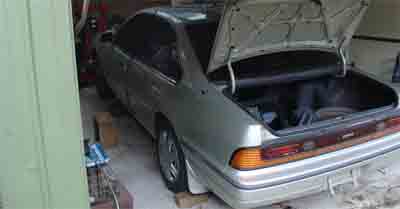 10/01/05
New project on the way .
Well living with the 180sx is good but I really need a 4 door car and want some thing practical.
So guess what I bought another Cefiro LOL this one is here and will be a complete build up . the car is a granny spec non turbo very clean interior. and silver in colour. looking like and rb25 but we will see .
also just picked up a 180 sx drifter this might be better as a fun car . I couldn't drift the purple 180 its condition is too good plus its auto .
btw a pic of the 180sx I have atm. this will be for sale very soon around 50 000 klms auto granny spec never modded :D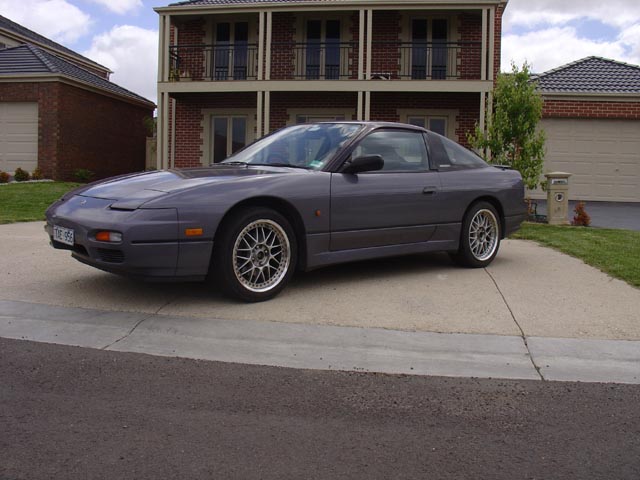 24/12/04
Reflecting back on the last year .
Well another year has passed and its time to look at what was achieved this time last year I had just sold my old black cefiro and I was contemplating the white cefiro.and had the sr20 32. then came the revalation of pulling the sr out of the 32 and fitting it to the cefiro. then was there were the other cefiro's that went through my hands rb 20de one rb25det one the sr one and a few rb 20 ones. then there was the laurel. and a few 180's . then I got the feature in drift battle magazine
07/12/04
Still no word on the 15 year rule change .
Well there has been no final word as yet as to when the rule change is happening and what the changes are likely to mean.
I have no cefiro's or laurels for sale atm at but I can get them still if your quick.
there have been delays getting cars on ships now as well which is very disappointing as australia's demand for export increase.
02/11/04
The 15 year rule looks to be changing .
Well we are waiting for the final word on the changes to the 15 year import rule as many of you know I have led the way alot of the time with my cefiro's etc and have found these cars to be great and for the true enthusiasts who want to stand out from the crowds. I might not be able to offer my services next year so in preparation I have bought some interesting cars. I have 2 nissan laurels coming the first one I pick up tomorrow. and another cefiro.
have a look at my for for sale page if you interested in any of these vehicles
17/10/04
Bit of an update on what is happening I got my old car (sr20 cefiro) on the cover of the magazine see below.
Also the rb 25 cefiro is nearly on the road rego happens next week. and I have the Laurel finally arriving next week.
it was also a sad day today as my Gloria was sold daniel from S. A. has grabbed it and has some great plans for it and the ability to carry them out. The good news for all the doom saysers and tyre kickers out there the car drove fine to S. A. and the report from Daniel was it was great to drive. good luck Daniel and make us proud. ( it is still one of the fattest cars I have ever seen) especially with viewing it on the move.
now comes the time for the big decision on which car to keep the Cefiro or the Laurel personally I am leaning towards the laurel as it is unique and has some real pimp factor. keep checking back as I'll be posting picks of the laurel when it arrives :D
| | |
| --- | --- |
| | I got my old car (sr20 cefiro) on the cover of the magazine Drift Battle issue number 3 the pics from the photo shoot taken by me are in the my cefiro drifting section. this was great there were 8 1/2 pages of coverage including a double page poster for those of you who like that stuff and a full writ up of the build. grab the magazine from your local newsagent and have a read. |
16/10/04
I have decided to show some of the things I have done to the rb 25 cefiro to make it easier in the compliance and registration process look for the link very soon
I'll keep the site updated
Hi do you find my site use full if so vote for me.

Click above to vote for meggala on 'top nissan sites'
Every one is talking about rb25det in to s13's I have taken some photos of a swap in progress.
thanks Gareth RB25 into 180
Feed back is some thing I really like tell me if
I'm doing a good job or not .Btw thanks to you people this site got well over
600,000 hits and 120,000 page views last month which to me is awesome.
cheers
meggala
Disclaimer
We've had
hits today!

cheers
meggala