What is meggala.com
meggala.com is a mature website the has lots of information about Nissan jdm cars and information on importing vehicles to Australia.
The site was started in the year 2000 where is was basicaly a diary during my travels to Europe upon returning to Australia I bought an R32 skyline and at that time there was very little information on them. I have since turned it into one of the main reference sites for Nissan Imports. I undertake all the projects my self and fund them my self. while I am knowledgeable about cars I am not a mechanic and dont do the complex work to my cars. I generally direct the work and do the research which makes it possible. My current car is an A31 Nissan Cefiro. which has undergone a major transformation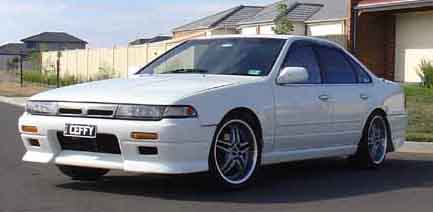 Importing cars to Australia
I am am now please to offer a vehicle importing service where for a fee I am able to find for you some great cars in a simple painless process with communication all the way through. If you have any question contact me on.
more info on the importing page which is here
meggala's current project sr20 cefiro
26/05/04
The quest for power continues although the 13.385 was very satisfying my goal is a 12 second 1/4 mile so with that in mind I went back to Sam at complete auto & dyno to extract some more power from the car. this was not as easy as we thought casue the hks evc was causing and few hassles and we could only get 1.4 bar of boost which would have to do best run of the day was 224 rwkw but we prnted the graph for 221 rwkw or 297 hp casue it was eaiser and a better indication of where the car is at. now the car is struggling for grip from about 5000 rpm in 1st and 2nd which is the effect we wanted normal boost for every day was raised to 1 bar :D which relates to around 200 rwkw. good for traffic light grand prix's but I really cant be bothered with them.
Am I happy with the power yes in a word I am but I will probably go that little bit further and fit cams and the stainless steel exhaust manifold I have sitting here.
not sure on what cams but I'm thinking 264's rather than 256's casue when it comes to cams I'm of the opinion of bigger is better but I dont want stupid. you will need to wait for the cams for a around 3 months as the car is going to get engineered.
hope i can run a 12 with 221 rwkw should be close.
14/05/04
Went to calder tonight to get a bearing on how the car is doing.
I took my other cefiro to calder and ran a 14.8 @ around 92 mph
so what does and sr 20 with some goodies in a cefiro do.
13.385 @ 105.90 mph with a 2.069 60' time . not bad at all considering I was only running 1.2 bar of boost and the car is still running very rich and making 203 rwkw also I was running 18' tyres on aroudn 35 psi .so my aim of a 12 seems very achiveable. now alot of people might say well my 180 sx or s13 ran a 12 with the same power well this shows how much extra weight the cefiro is carrying I would assume a weight of around 1350 kgs plus my 100 kgs. its nto to bad at all. more tuning coming next week or so looking for 220-230 rwkw. lets see if we can get it :) then back to the track. to try for the 12's
n.b the chap in the next lane was a wrx the 60' time reflect how well a 4wd can take off :D a good race none the less.
time slip
02/05/04
Well the car was tuned last week 203 rwkw @ 1.2 bar 620 nm of torque.
the 188 rwkw figure wasnt able to be reproduced as it was when the first rom was put in so the figure was a bit lower. the 203 rwkw is really awsome pushes you in the back. if you knife the clutch in second the car spins the wheels madly there isalot of torque there. this is surprising casue of the 2.0 liter capacity.
I'm finding the stock manifold is a restriction and will be up dating to a tubular one in a few week. Cams are also required and a lash killer kit the lash killer kit is to stop the rocker arms coming off at high revs cams I'll go for 264's I think then I can move the power up the scale a bit. the 12 second 1/4 seem very achiveable traction will be the main issue there so I will be fitting adjustable camber arms on the rear.
fuel economy has been great as well around 9 klm per liter.
now to sort out all the rest of the car and finally get some audio in as the car still has no stereo :(.
Winter has arrived here in Victoria so the boost controller will come in handy to keep the boost low for now.
22/04/04
Project cefiro is is up and running
The motor is going as it should through the turbo and cooler and boy is it going
In a very safe tune a/f ratio's 10.5 to 1 the car made 188 rwkw @ .9 bar this is with the stock manifold and the Trust T518z 10cm turbo.
Basic run down of what was done.
Nissan SR 20 motor and gear box fitted with T518z trust turbo, r32 gtr intercooler,550 cc injectors,z32 afm, remapped factory ecu by Dr _Drift. 3" exhaust from the turbo back including s15 spilt dump pipe. heavy duty organic clutch mechanical 2 way lsd, tein suspension and thicker custom 2 layer radiator with outlets on the correct sid e..
full boost is archived @ 3200 rpm power flattens off around 6700rpm power 188 rwkw (257 rwhp).
the car is awesome it is so torquey its not funny fuel economy has been 11 liters per 100 km. The drivablitiy is insane in day to day driving no need to go over 4000 rpm the car happily chirps in to third gear. wheel spin is on demand all this on a very safe basic tune.
The aims of the conversion alot of people ask why would i take a good 6 cylinder motor out of a car and fit a 4 cylinder motor of the same size. most of my reasons are written below. there has been a few other added this time.
I wanted to build a fast unique car that is capable of carrying 5 people has plenty of torque that will drift very well. and will run a 12 second 1/4 mile with out spending more than 20 k Australian. I believe the package I have put together will achieve this goal the turbo and motor will be capable of in excess of 250 rwkw. In its current for I will be looking for around 230 rwkw and we will proceed from there. .
Why did I choose the Trust turbo and the SR. well the SR was chosen because it is an engine still receiving a lot of development by japanese and australian tuner. you only need 4 of every thing rather than 6. Development of the rb20 is now limited and personally I don't believe they handle much over 200 rwkw reliably over the long term. under 200 rwkw then are not many better engines to punish. The Trust turbo for me this was an easy decision I looked long and hard at the garret range and the hks/garret range. The garrret range was full of ambiguity's claims of power not often backed up lack of good solid advice other than bolt on a 500 hp roller and you will be right. the hks range was much better but cost for a brand new item was much higher and nothing suited the power level I wanted. A friend squizz had a 180 sx with a trust t518z and his comments on the turbo were full of praise and he has driven or been a passenger in many other warm to hot sr's. also the Signal Auto drift cars run these turbo's and all you have to do is look at their vids to see the type of power these things can develop.
well I wasn't disappointed on any front with this turbo price and performance and we haven't even started yet with the performance.
how does it handle well the sr cefiro handles much better than the r32 sr for many reasons the back does always want to overtake the front. drift is easy and general hard cornering feels much more secure.
what was needed to fit the sr to the cefiro. sr crossmember for the engine r32 gtst steering rack was used as the cefiro one didn't sit right.
other wise its pretty easy if your not doing the work :D
would I do it again simple answer yes
would I do an sr 20 r32 again no.
thanks for reading
meggala
Big thanks to bozz( wiring) and sam and nick from complete auto in 146 gaffeny street coburg 0393541198 for finishing the job on a very tight schedule and for the tuning
11/04/04
Project Cefiro is nearing completion
The motor is in and running be it without the turbo and cooler that's soon to be rectified. By sam and NIck form complete auto's in coburg . thanks to the Genius Bozz for getting all the wiring sorted. a few hiccups occurred but once the power is there they will soon be forgotten.
The mods being done and Why
Remove rb20 and fit sr 20. why you ask well the sr 20 has better torque characteristics also there ia a much wide range of bolt on performance mods available plus its different.
The sr 20 is being fitting with a trust t518, gtr intercooler, 550cc injectors, z32 afmwalbro fuel pump, chip by dr_drift aka sam and an hks ebc soon to be added will be an oil cooler and possibly a trust sump. clutch is a dakien organic for now. suspension is tein ha car has a mech lsd 1.5 way and adjustable castor rods. also it will soon have adjustable rear camber and toe in-arms. rolling on 18 X 8 18 X 9 dtm deep dished alloy wheels , exhaust duties are stainless separated dump in to mandrel front pipe in to a 3 " hi flow cat with a 3" exhaust.
power goals for now 200 -220 rwkw !/4 mile time I'm aiming for a 12 for now and low 12 possibly 11 down the track.
more once its done
cheers
meggala
project sr20 cefiro nearly there

| | |
| --- | --- |
| | |
| | |
03/04/04
well I went to hpi drift competion and took some pics and vids of the day they are here Hpi Drift Competition.
I was to enter my my cefiro was not ready any way more on that later got to fly off to auto salon to day so have a look at the pics and vids.
19/01/04
No updates for a while my apologies alot has happened in the last couple of months. my beloved black cefiro has gone and is to be replaced with the white cefiro.I also conviced the missus to allow a major up grade to it so here are the plans.
the sr20 r32 project will be shelved the motor will come out and will be replaced with an rb 20 and the car sold off.
"WHY" I hear you say well in my family a 2 door car is very impractical as I quite often have to carry 3 or 4 people and 2 doors in that situation suxs. but the sr 20 project isnt gone. wait for it
The sr is being transplanted into the cefiro with the gtr cooler a trust t518z 10 cm turbo these turbos support 425- 450hp and make more power than a td06 20 g or a 2540 its will be a bit laggy but that should suit my needs full boost around 4k rpm I'm also doing injectors going 550's. for the moment keeping the stock manifold but going custom down the track although this turbo will support 1.6 bar plus I will probably keep it to 1.2 to save the stock motor then down the track go full internals cams etc if the need for speed is there. so wish me luck we know what to do for the swap now so it shouldnt be to hard.
cant wait to drive it :)
part 2
well as we need 4 door cars the gloria which has been laguishing in my back yard is getting bumped up the list it going off to get complied soon and will be on the road not as a racer but as a cruiser as was intended buy the factory. nice fat pimpin cruiser. should be nice
02/11/03
Well thing have been very busy for me over the last couple of weeks I have moved house and done a few car things.
Firstly the black cefiro has got a new set of wheels the ones off the gloria they really suit the car I have a front bar and side skirts being made for it as we speak. then the mods will start I have a slightly larger turbo waiting to go on and my old front mount intercooler. I removed the pee shooter exhaust and fitted a bee r one to it.. I will also be getting some more gauges and a custom re trim the rear seat has already been done and the the rest will be done over time. then the fuel pump will be upgraded and a new chip will be written by dr drift for it removing limiters and cleaning up the fuel maps and ignition maps.
The sr 20 r32 has had some stuff done to it first ly a new set of wheels then I'll be fitting the adjustable castor rods and a 2 way diff. I put the car the car on the market. but did not get much interest so I figured I'll keep it and follow the whole progress with mods my goal is to run a 12 second 1/4 mile with the sr 20 fitted this should be doable as I have some semi comp tyres and I'll be working with a suspension place to get the set up right then I will be set up more for drift than any thing I have the bigger afm r20 or z32 waiting and I'm in the hunt for some injectors . the turbo will be either a 400 or 450 roller bearing job. but b4 all of this I'll get the car engineered properly.
Also remember If you or any of your friends are looking to bring any cars over from japan I can help source them. and get them here and find you compliance under the 15 year rule or under the the new RAWS scheme for newer cars information is on the importing page.
cheers
meggala
I'll keep the site updated
Hi do you find my site use full if so vote for me.

Click above to vote for meggala on 'top nissan sites'
cheers
meggala